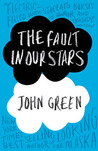 The Fault in Our Stars
by
John Green
My rating:
4 of 5 stars
★★★★☆
Sinopse:
Despite the tumor-shrinking medical miracle that has bought her a few years, Hazel has never been anything but terminal, her final chapter inscribed upon diagnosis. But when a gorgeous plot twist named Augustus Waters suddenly appears at Cancer Kid Support Group, Hazel's story is about to be completely rewritten.
Fonte
Opinião:
Antes de ler qualquer livro de
John Green
, li algumas críticas a obras dele e, como seria de esperar, criei imensas expectativas.
O primeiro livro que li dele foi
Looking for Alaska
, e não me impressionou. Já
The Fault in Our Stars
foi um dos livros mais emocionantes que já li.
1ªleitura: 7 a 13 de Janeiro de 2013
2ªleitura: 11 a 14 de Junho de 2014
Ver outras críticas